The most unusual places in the world
Pamukkale, Turkey
Pamukkale is consistently present in numerous ratings of the most beautiful places on Earth and it is absolutely deserved. This is a series of thermal springs that in a bizarre way carved "steps" in a snow-white limestone slope. Today, not only travelers who want to look at the miracle of nature come here, but also those whose goal is to improve their health, and they are happy to dive into shallow travertines. There is also a deeper font on the territory of the complex – Cleopatra's pool. According to legend, Cleopatra herself came here to relax and rejuvenate.
The water in the Cleopatra pool is carbonated and comes from thermal springs, which makes it feel like you are swimming in a huge bath of champagne. In addition to pleasant sensations, bathing will also give benefits – the water is saturated with radon, minerals and has healing properties.

The attraction is located far from the tourist centers, therefore, when going here from the nearest resort town, you need to be prepared for a long trip. By the way, the fragile walls of limestone travertines are susceptible to damage, and it is forbidden to walk on many of them. In order to walk on the rest, you will have to take off your shoes. This rule is closely monitored by the guards.
Waitomo Caves, New Zealand
The Waitomo Caves in New Zealand's Waikato region are quite interesting in their own right, with intricate limestone outgrowths and bizarre passages created centuries ago. But what makes them truly unique and worth seeing are the "inhabitants" of the Firefly Cave. These are thousands of mosquitoes, which, accumulating on its vaults, create the effect of a "starry sky".
Lake Retba, Senegal
Going to Senegal, you should understand that there are so many colorful sights that it is unlikely that you will be able to visit everything at once. But the "icing on the cake" of the sights of Senegal is the mysterious "pink lake" Retba – one of the most beautiful places on Earth. It looks exactly like a picture from a children's book – snow-white beaches and pink water. The oldest cyanobacteria living in the salt lake are responsible for such an unusual color.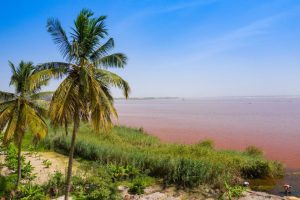 Getting there is quite easy: the lake is located just 30 km from the local capital, Dakar. Local residents have long understood that the place is in great demand among tourists and willingly offer a transfer to it.
Dragon trees on Socotra island, Yemen
If at heart you are an eternal adventurer and a real Indiana Jones, you are on your way to one of the most unusual places in Yemen – Soctor Island. The island is notable for the trees that grow here, which secrete bright red sap. By making an incision in the bark, you can see how the Dragon Tree begins to "bleed".
Previously, there were quite a lot of such trees (sometimes millennials) in the Canary Islands, but due to the active collection of valuable red resin, their number has significantly decreased. You can still look at a small grove in Yemen.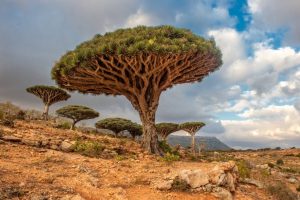 Son Doong Cave, Vietnam
Located in the Vietnamese province of Quang Binh, Son Doong Cave is considered the largest in the world. To see the cave, head to Phong Nha Kebang National Park. Here you can see passages up to 200 meters high and up to 150 meters wide. In addition, travelers remain delighted with the underground river, as well as plants under the holes in the cave vaults, due to which sunlight breaks in.